Weekly News - September 23, 2021

THE 96TH STREET BRIDGE along Stone Harbor Boulevard leading into the Borough of Stone Harbor will be undergoing structural repairs to the bascule span (movable span) during nighttime hours Monday thru Thursdays beginning on September 20th and extending until September 30th. Traffic will not be able to pass over the bridge between the hours of 8:00pm to 6:00am during those nights. There will be no closures Fridays thru Sundays during that period. The contractor will be fortifying beam 3 as part of ongoing emergency repair work to address small cracks that were discovered as part of a recent interim bridge inspection procedure. Due to the nature of the work, the bridge cannot remain open as work proceeds. Thru traffic wishing to access Stone Harbor via Stone Harbor Boulevard will be detoured during these work times with access to Stone Harbor directed to Avalon Boulevard. Local traffic wishing to access businesses and residences up to the west side of the bridge will be permitted to proceed along Stone Harbor Boulevard. The bridge will re-open at 6:00am the morning of the night closures.

Learn More: Notice of Night Closure for 96th Street Bridge

STONE HARBOR BEACH PATROL HEADQUARTERS at 95th Street was demolished last week in preparation for the construction of a new headquarters building. The new beach patrol headquarters is to be completed by the start of the 2022 Summer season.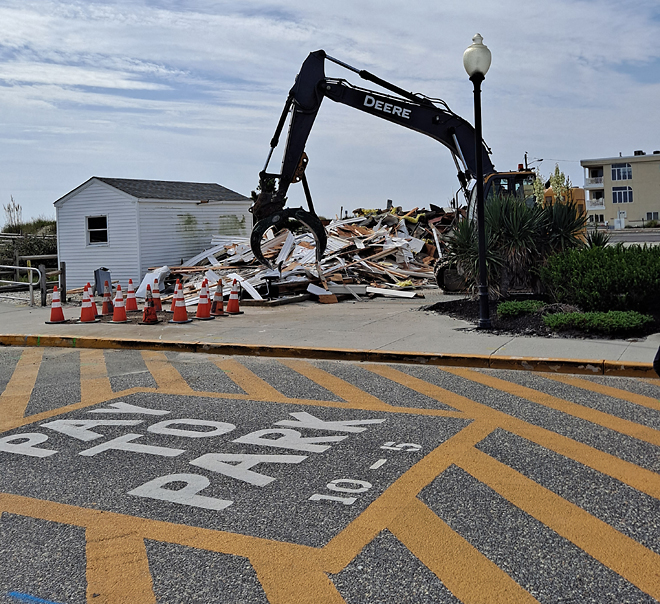 Demolition of Stone Harbor Beach Patrol Headquarters.

A PRE-CONSTRUCTION MEETING was held on Friday, September 17th, 2021 regarding an upcoming project that will impact a portion of Ocean Drive from 62nd Street south to 80th Street. This street is a county road. The Borough of Avalon will replace a majority of water and sewer underneath the roadway in advance of the County of Cape May doing drainage improvements before a complete resurfacing of the roadway. The Borough's water and sewer work will be conducted by Lafayette Utility Construction Company, Inc. of Egg Harbor Township who is familiar with the infrastructure in our community. At the conclusion of this project, individuals living along that portion of Ocean Drive will have new water and sewer service, improved drainage, and a new road surface on both sides of Ocean Drive. The project is expected to begin with major construction work on or about after Columbus Day weekend, in mid-October.

Learn More: Details of Ocean Drive Water/Sewer/Resurfacing Project, 62nd-80th Streets

THE BOROUGH OF AVALON welcomed two new members to the Avalon government family on Monday, September 20th. Amber Oliver joins the Borough as Deputy Court Administrator, and Melissa Bakley is welcomed as Deputy Municipal Clerk.

Learn More: Avalon Welcomes New Deputy Municipal Clerk, Deputy Court Administrator

THE NJ RUN FOR THE FALLEN will pass through our area today, Thursday, September 23rd, beginning at approximately 7:45am in Cape May. The estimated time for Stone Harbor and Avalon is 12:15pm to 1:40pm. Please consider attending one of the Hero marker tributes along their route. View times:

Learn More: NJ Run for the Fallen

CURIOUS ABOUT THE LIVES OF MONARCH BUTTERFLIES? Ever wonder how you tag an insect that weighs less than a paper clip? Now's your chance to find out! The Wetlands Institute building is closed but the grounds are open, so join them on the front lawn for a special, limited time Monarch tagging demonstration and Q&A. Learn how they catch and tag these amazing butterflies, and how The Wetlands Institute is helping the Monarch Monitoring Project keep track of the Monarch population in Stone Harbor. They will be out at 3:30pm each Wednesday from September 22nd through November 3rd. Stop by anytime between 3:30pm and 4:30pm for an informative, enlightening look at these remarkable butterflies and the Monarch Monitoring Project's efforts to help them. Want to get involved yourself? Stop by and find out how you can become a Monarch Ambassador for 2022!

Learn More: The Wetlands Institute

THE VINO WE GROW: There is nothing like a glass of good wine. More and more, New Jersey wine drinkers are finding good reasons to choose their vino from their very own state's backyard. And it all starts with the vines. According to Tom Cosentino, executive director of the nonprofit Garden State Wine Growers Association (GSWGA), there are more than 1,800 acres of grapes growing in New Jersey. As a result of opening up opportunities, smaller vineyards are offering their wines to eager consumers. The GSWGA offers its Passport App to New Jersey Wine Country. The app allows you to electronically check into each winery you visit. If you finish visiting one, or multiple regions, you will win a prize, such as a gift card. And if you visit all of the New Jersey wineries in the passport app, then you will be eligible for a drawing to win an exotic wine-country vacation for two. And the best part is, there is no time limit in how long it takes you to visit the wineries to enter a drawing. Read more at Seven Mile Times:

Learn More: The Vino We Grow: The Garden State's Wineries Have Come a Long Way

FERGUSON DECHERT'S OFFICE has reopened to the public. If you are visiting, we ask that you wear a mask in the office even if you are vaccinated. As always, you may call or email me if you need assistance.

Cell: 703-622-3668 | Email: Doug@AvalonDoug.com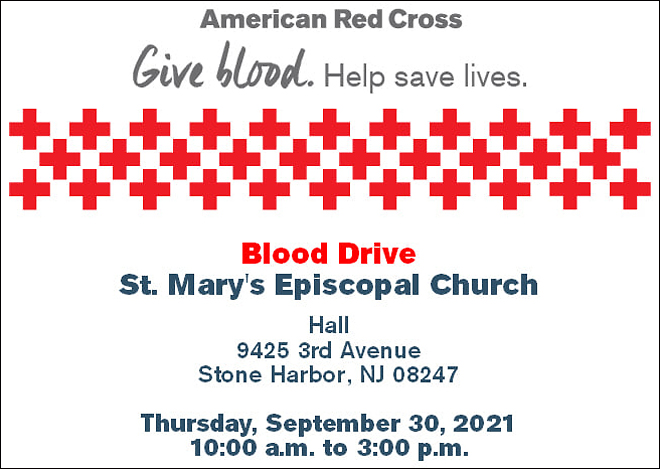 More Community Activities*
Please Note: Due to changing schedules, our full events calendar has been temporarily removed from the newsletter. Please visit some local sites for up to date event information:

APAC Virtual Art Show ~ Through September 2021: View the works of more than 30 local artists in categories of oil and acrylic, watercolor, mixed media, and photography. Connect directly with artists for purchase and custom orders.

Avalon Performing Arts Council

Savor September Weekend ~ September 24 & 25, 2021: Visit Stone Harbor for Savor En Blanc on Friday and the Beer, Wine & Food Festival on Saturday!

Stone Harbor Chamber of Commerce

Red Cross Blood Drive ~ September 30, 2021: To be held in St. Mary's Parish Hall on September 30th from 10 AM to 3 PM. Call 1-800-733-2767 or visit RedCrossBlood.org to schedule an appointment.

More Info: St. Mary's Episcopal Church

Avalon Oktoberfest ~ September 30, 2021: Hoist your steins and break out the lederhosen for Avalon Oktoberfest at ICONA Avalon! The Sandbar Village will feature live entertainment, German themed food and new beer selections from the Avalon Brew Pub. Kids will enjoy live music, games, and crafts.

Avalon Oktoberfest 2021

Sunset Cruise for a Cause ~ October 1, 2021: Join the Cape May County Coast Guard Community Foundation for a 2-houe cruise on the Cape May Harbor aboard the American Star featuring complimentary gourmet hors d'oeuvres & cash bar. A portion of the proceeds will support Coast Guard members and their families in Cape May County. Space is limited and reservations are required:

Sunset Cruise for a Cause

ProFlight at the Shore Paddle Tennis Tournament ~ October 2, 2021: The world's top paddle players battle for prize money; watch, eat, and drink for free!

ProFlight at the Shore Paddle Tennis Tournament

APAC Concert: Jerry Blavat ~ October 2, 2021: "The Geator with the Heater" is back by popular demand for a night of oldies and dancing. Bring your own food and beverage.

Avalon Performing Arts Center

Avalon Seafood Festival ~ October 9 & 10, 2021: Featuring a weekend of great food, vendors, and live music, this family oriented fall festival attracts hundreds of visitors in Avalon. Plus, College and NFL Football games streaming live in the Sound Advice tent and crafts and games for the kids, face painting and more!

Avalon Seafood Festival

Avalon Dune Grass Planting ~ October 23, 2021: Volunteer in planting dune grass and helping to keep the beaches of Avalon safe from storms. Volunteers are asked to meet at Avalon Community Hall for a short demonstration, and a light lunch will be provided after planting.

Avalon Dune Grass Planting

Avalon History Center Online Collection & Virtual Exhibits: The Avalon History Center is excited to announce their recent partnership with Google's Arts & Culture program! Visit the link below to explore their new online collection and virtual exhibits:

Google Arts & Culture - Avalon History Center

Library Programs: Have you caught an Online Story Time or registered for a Book Club yet? The Avalon Free Public Library is currently offering free in person and virtual programs. Registration is required; some sessions may be limited.

Avalon Free Public Library

More Library Resources: Don't forget that many public libraries offer a variety of resources to allow you access to ebooks, audiobooks, movies, TV shows, newspapers and more, all available online 24/7 and completely free. Check out Avalon's offerings below, or visit your local library's website for more information!

Avalon Free Public Library - Digital Offerings

The Wetlands Institute: See what's happening at The Wetlands Institute. Check out their events calendar and join in for an adventure in exploration and discovery!

The Wetlands Institute

Cape May County Zoo: The zoo is open every day from 10 a.m. to 4:30 p.m. Safety measures are being put in place and the capacity of the zoo will be watched closely to ensure it doesn't get overcrowded with guests.

Cape May County Zoo

Recreation Departments: Avalon Recreation | Stone Harbor Recreation

Borough Websites: Avalon Borough | Borough of Stone Harbor

Chambers of Commerce: Avalon Chamber of Commerce | Stone Harbor Chamber of Commerce

New Listings:
7888 Dune Drive, 218, Avalon, $695,000, ACTIVE MLS#: 213468
1 Leonards Lane, Avalon Manor, $999,000, ACTIVE MLS#: 213447
346 41st Street, West, Avalon, $1,789,000, ACTIVE MLS#: 213452
243 87th Street, Stone Harbor, $2,195,000, ACTIVE MLS#: 213464
211 120th Street, Stone Harbor, $3,195,000, ACTIVE MLS#: 213485
3449 First Avenue, Avalon, $3,495,000, ACTIVE MLS#: 213487
26 E. 25th Street, Avalon, $4,295,000, ACTIVE MLS#: 213501
11 Heron Drive, Avalon, $6,795,000, ACTIVE MLS#: 213470
Properties Under Contract:
250 105th Street, West, Stone Harbor, $919,000, UNDER CONTRACT MLS#: 213272
440 21st Street, Rear, Avalon, $999,000, UNDER CONTRACT MLS#: 213410
402 21st Street, North, Avalon, $1,499,000, UNDER CONTRACT MLS#: 213375
167 34th Street, Avalon, $2,500,000, UNDER CONTRACT MLS#: 212709
8 103rd Street, East, Stone Harbor, $2,795,000, UNDER CONTRACT MLS#: 213268
789 Dune Drive, Avalon, $2,795,000, UNDER CONTRACT MLS#: 213355
304 75th Street, Avalon, $2,800,000, UNDER CONTRACT MLS#: 213412
Properties Sold:
7800 Dune Drive, 227, Avalon, $285,000, SOLD MLS#: 202957
2422 Fourth Avenue, West Unit, Avalon, $1,945,000, SOLD MLS#: 212174
279 54th Street, Avalon, $1,950,000, SOLD MLS#: 211617
4010 Dune Drive, Avalon, $2,300,000, SOLD MLS#: 204047
227 107th Street, Stone Harbor, $2,400,000, SOLD MLS#: 212188
35 E. 23rd Street, Avalon, $2,905,000, SOLD MLS#: 211051
9031 Second Avenue, Stone Harbor, $3,353,000, SOLD MLS#: 211902
589 Sunrise Drive, Avalon, $4,050,000, SOLD MLS#: 212421
75 E. 12th Street, Avalon, $4,995,000, SOLD MLS#: 212130
198 73rd Street, Avalon, $5,585,000, SOLD MLS#: 202568


*Details are subject to change. Information is current at the time of posting; please visit their corresponding websites for the most up-to-date information, changes or cancellations.