Weekly News - January 27, 2022


CONSTRUCTION OF THE NEW LIFEGUARD HEADQUARTERS at 95th Street in Stone Harbor is moving along well. The guards' new building should be ready for use this coming summer.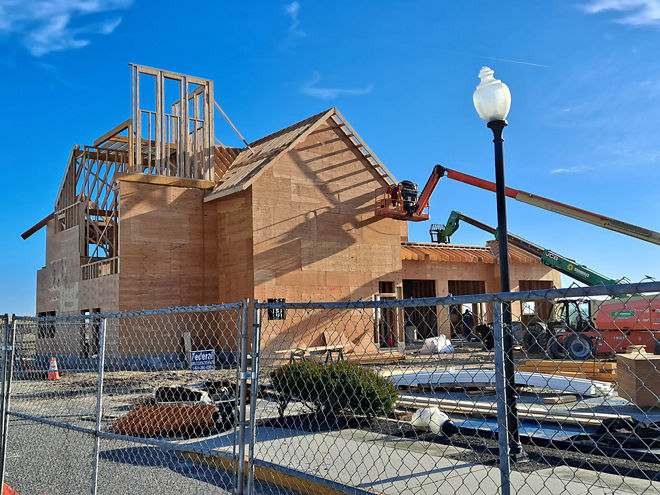 NEW FLOOD VIDEO: Do you know the difference between minor, moderate, and major tidal flooding? The terminology can be confusing. Avalon's volunteer Floodplain Management Committee came up with the idea to create a video to explain the differences, and to discuss the impact in Avalon. Press of Atlantic City Meteorologist Joe Martucci was excited by the project and volunteered to be a part of it.

Avalon Partners with Meteorologist Joe Martucci for New Flood Video

GOLF CART SAFETY: This is a great educational video that is a MUST WATCH for all owners of golf carts. At the Avalon Volunteer Fire Department's weekly drill night, the members learned and discussed responding to utility emergencies. Lt. Lisa Sasdelli found a video which covers the issues related to electric golf carts, especially when charged in the garage. This is a semi-frequent occurrence in Avalon.

Avalon Volunteer Fire Department

AVALON BEACH PATROL 2022: Become a member of the Avalon Beach Patrol this summer! Chief Matt Wolf and Captain Ryan Black invite you to be part of our team for a rewarding summer with one of the best beach patrols on the East Coast.

Become a Member of the Avalon Beach Patrol in 2022

NEW KANGAROO & EMU HABITAT: Guess who grabbed the latest listing in Cape May County! Located in the heart of the Zoo's best neighborhood with Wallabies and Kookaburra located nearby! New, upscale homes being built for Toco Toucans in walking distance! Featuring a 12,000 square foot outdoor yard space for activities; all new fencing for wide, easy views of the local residents and visitors alike; and 500 square feet of heated indoor living space. Head over to www.capemayzoosociety.org to meet the new neighbors and find out what's in store for the Cape May County Park & Zoo.

Watch Video: The Hottest Listing in Cape May County

THE HEAP OF SNOW CAPE MAY COUNTY received in early January was a nice kick of excitement for the post-holiday slump. Temperatures have gotten even colder, and many events across the county have been cancelled because of COVID concerns. So, just what the heck is there to do in Cape May County right now? As usual, the answer is: quite a lot! Many locals will be familiar with these beloved institutions, but here's a refresher on some of the County's best perennial outings.

Beat the Winter Slump with Year-Round Local Attractions

SAVE THE DATE! Get ready to shop 'til you drop with the largest winter retail event of the area. Shop-A-Holics weekend returns March 10-13, 2022 with discounts on designer clothing, accessories, home décor and more. Travel through Avalon and Stone Harbor and shop your favorite stores and boutiques for designers, discounts and deals!

Shop-A-Holics Weekend



Community Info & Activities*

New Listings:
260 83rd Street, #1, Stone Harbor, $1,599,000, ACTIVE MLS#: 220134
Properties Under Contract:
276 33rd Street, East, Avalon, $1,595,000, UNDER CONTRACT MLS#: 220163
Lot 58 112th Street, Second Avenue, Stone Harbor, $3,595,000, UNDER CONTRACT MLS#: 220045
Lot 52 112th Street, Stone Harbor, $3,695,000, UNDER CONTRACT MLS#: 220044
526 7th Street, Avalon, $5,349,000, UNDER CONTRACT MLS#: 220089
Properties Sold:
571 Avalon Boulevard, Avalon Manor, $385,000, SOLD MLS#: 214357
1 Leonards Lane, Avalon Manor, $825,000, SOLD MLS#: 213447
280 28th Street, North, Avalon, $1,350,000, SOLD MLS#: 212612


*Details are subject to change. Information is current at the time of posting; please visit their corresponding websites for the most up-to-date information, changes or cancellations.